Waar en wanneer
Donderdag 1 juni 2023 v

an 9.30 tot 17.30 uur op verschillende locaties in Kortrijk.

Een paar dagen voor Expeditie K ontvang je alle praktische info per route en sessie nog eens via mail.

De lunch en de netwerkdrink gaan door op

Weide

op het Nelson Mandelaplein in Kortrijk.
Programmaoverzicht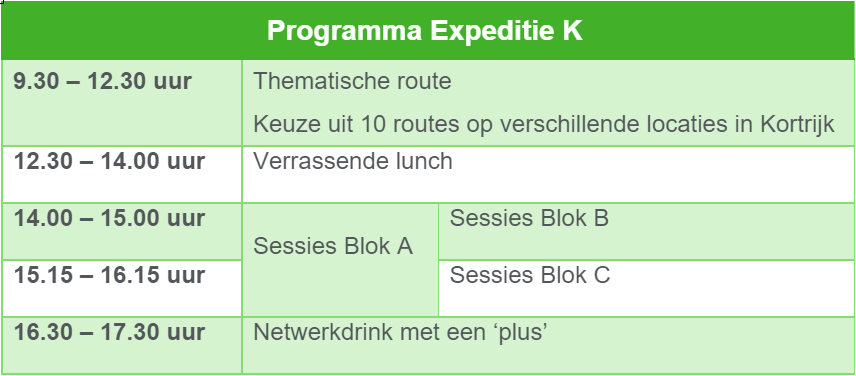 In de voormiddag (van 9.30 tot 12.30 uur) kies je uit een van de tien routes en verdiep je je in een thema van jouw keuze. Bij vier routes geef je bij je inschrijving ook aan welke subsessie je wenst te volgen.
In de namiddag verruim je je blik met onze verdiepende sessies van 14 tot 16.30 uur (blok A) of combineer je twee verschillende sessies van een uur (blok B van 14 tot 15 uur en blok C van 15.15 tot 16.15 uur).
Inschrijven
Inschrijven kan via de groene knop rechtsbovenaan deze pagina.
Welke stappen neem je?
Kies 1 ROUTE uit die je wil volgen in de voormiddag - telkens van 9.30 tot 12.30 uur, je blijft de hele voormiddag in dezelfde route.
Kies vervolgens je namiddagsessies. Ofwel kies je 1 sessie uit BLOK A (van 14.00 tot 16.30 uur) of ga je voor 2 sessies van 1 uur (BLOK B = 14.00 tot 15.00 uur & BLOK C = 15.15 tot 16.15 uur)
Geef ook aan of je deelneemt aan de afsluitende netwerkdrink op het einde van de dag (van 16.30 tot 17.30 uur). Lunch voorzien we sowieso voor iedereen die zich inschreef.
​

Catering/Toegankelijkheid
VVSG zorgt ervoor dat het cateringaanbod minstens 50% vegetarisch is. Heb je andere voorkeuren? Geef dit dan door via het inschrijvingsformulier bij 'opmerkingen' helemaal aan het einde van de inschrijving.

Heb je specifieke noden of wensen waarmee we rekening moeten houden? We horen het graag!

Alle locaties waar de routes en sessies doorgaan, zijn te voet of met de fiets vlot bereikbaar vanaf het station van Kortrijk. We voorzien voldoende fietsen aan het station van Kortrijk.
Deelnameprijs voor de hele dag
€

165 - VVSG-leden

€ 230 - niet VVSG-leden

We werken enkel met een dagprijs
Betaling
Je ontvangt van ons een factuur na het event.

In het inschrijvingsformulier kan je indien gewenst aangeven naar waar de factuur moet verzonden worden alsook je bestelbonnummer ingeven.
Annuleren
Kosteloos annuleren is mogelijk tot 5 werkdagen voor Expeditie K, dus ten laatste op 25 mei 2023.
Daarna rekenen we de volledige deelnameprijs aan, tenzij je een geldig ziekteattest kan voorleggen.
Ben je onverwacht verhinderd of is het te laat om te annuleren? Laat je vervangen door een collega door een e-mail te sturen naar academie@vvsg.be.
Vragen
Nele Timmermans & Elke Van Den Wijngaert, Team Kennisdeling en Ledenadvies, projectadviseurs, nele.timmermans@vvsg.be of elke.vandenwijngaert@vvsg.be