De belevingsmarkt van Expeditie K - Kom proeven, testen, uitproberen, kijken en ervaren!
Op en rond de site Weide, waar lunch en receptie doorgaan, kan je ook een belevingsmarkt vinden die doorlopend open is van 12u30 tot 17u30.
Wie kan je er treffen?
1/ Techniekacademies - STEM-partnerschappen
Ervaar de boeiende wereld van STEM op de belevingsmarkt op Weide en laat je inspireren voor STEM in de vrije tijd in jouw gemeente!
Ook in jouw gemeente kunnen buitenschoolse STEM-ervaringen kinderen en jongeren enthousiast maken voor STEM. Ontdek hier hoe je ondersteuning kan krijgen om acties binnen beleidsdoelstellingen jeugd, lokale economie, welzijn, cultuur,… te realiseren.

2/ Vives - Demosessies rond innovatieve zorgtechnologie
A taste of Care Technology. Welkom op onze demosessies op Weide, breng een bezoekje aan onze truck!
Ontdek de nieuwste innovatie en een breed scala van zorgtechnologie tijdens onze demosessies : van de innovatieve keuken, smart glasses, Robot Robin en VR tot sociale robots, slimme horloges, geo locatie apparaten en slimme drinkflessen. Je krijgt oa. de kans om ervaring op te doen met de Plankpad Pro en Blaze pods.
Deze demo's bieden de perfecte gelegenheid om te ontdekken hoe technologie een meerwaarde kan betekenen voor de toekomst van de zorg.
3/ Howest - Kom het demolokaal 'The Enterprise' ontdekken!
Ontdek 'The Enterprise', een inspirerende co-creatiehub gevestigd in The Penta op Sint-Martens-Latemlaan 1B bij Howest.
Verken de fascinerende wereld van SmartTech en maak kennis met de expertise en dienstverlening van de SmartTech-cluster van Howest. Laat je verrassen door de aanwezigheid van Temi, de gastvrije "Hospitality Robot", die je begeleidt tijdens je bezoek.
Ontdek ook de boeiende expositie over Assistive Technology, waar je verschillende gerealiseerde projecten kunt bewonderen, waaronder aangepaste hulpmiddelen en gezelschapsspelen die voortkomen uit tien jaar praktijkgericht onderzoek naar Do It Yourself - Assistive Technology.
Ontdek het veelbelovende onderzoeksproject SIOPA, dat volop de mogelijkheden van VR-applicaties in ergotherapeutische behandelingen verkent. Daarnaast krijg je ook een inkijkje in bestaande applicaties die al worden ingezet in de ouderenzorg voor oa relaxatie en reminiscentie.
Toegankelijkheid/Openbaar vervoer - Blue bikes
Alle locaties waar de routes en sessies doorgaan, zijn te voet of met de fiets vlot bereikbaar vanaf het station van Kortrijk.

Kom naar Expeditie K met het openbaar vervoer en Blue-bike:
Aan het station van Kortrijk staan de handige deelfietsen van Blue-bike voor je klaar. Hiermee verplaats je je makkelijk en snel tussen de verschillende eventlocaties in de stad. Word nu al lid via www.blue-bike.be

zodat je je lidkaart tijdig ontvangt (€ 12 / jaar). Daarmee ontleen je op 1 juni een fiets voor slechts € 1,50, of twee fietsen voor in totaal € 3. Je mag je fiets tot 24 uur lang bijhouden. Aan het einde van de dag breng je hem gewoon terug naar de startlocatie en kan je je reis meteen verderzetten met de trein of bus.


Van plan om Expeditie K met meerdere medewerkers te bezoeken? Sluit dan een zakelijk account af via www.blue-bike.be (€ 12 / jaar) en bestel het gewenste aantal rittenvouchers. Met een voucher kan je eenmalig een fiets ontlenen zonder lidkaart – ideaal voor occasionele Blue-bikegebruikers!
Waar en wanneer
Donderdag 1 juni 2023 v

an 9.30 tot 17.30 uur op verschillende locaties in Kortrijk.

Een paar dagen voor Expeditie K ontvang je alle praktische info per route en sessie nog eens via mail.

De lunch en de netwerkdrink gaan door op

Weide

op het Nelson Mandelaplein in Kortrijk.
Programmaoverzicht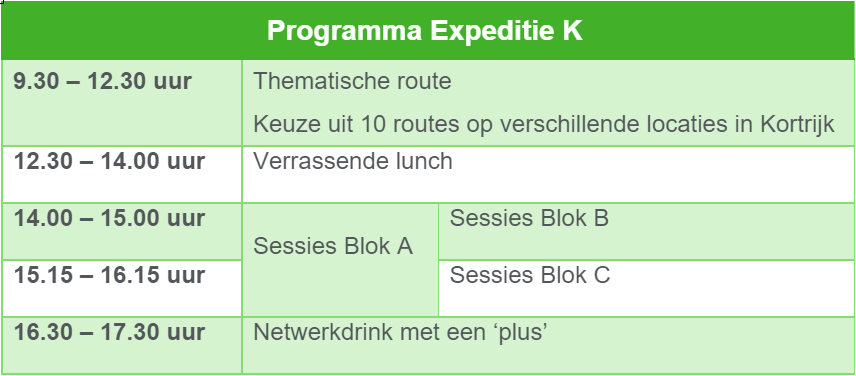 In de voormiddag (van 9.30 tot 12.30 uur) kies je uit een van de tien routes en verdiep je je in een thema van jouw keuze. Bij vier routes geef je bij je inschrijving ook aan welke subsessie je wenst te volgen.
In de namiddag verruim je je blik met onze verdiepende sessies van 14 tot 16.30 uur (blok A) of combineer je twee verschillende sessies van een uur (blok B van 14 tot 15 uur en blok C van 15.15 tot 16.15 uur).
Inschrijven
Inschrijven kan via de groene knop rechtsbovenaan deze pagina. Op woensdag 24 mei worden de inschrijvingen afgesloten!
Welke stappen neem je?
Kies 1 ROUTE uit die je wil volgen in de voormiddag - telkens van 9.30 tot 12.30 uur, je blijft de hele voormiddag in dezelfde route.
Kies vervolgens je namiddagsessies. Ofwel kies je 1 sessie uit BLOK A (van 14.00 tot 16.30 uur) of ga je voor 2 sessies van 1 uur (BLOK B = 14.00 tot 15.00 uur & BLOK C = 15.15 tot 16.15 uur)
Geef ook aan of je deelneemt aan de afsluitende netwerkdrink op het einde van de dag (van 16.30 tot 17.30 uur). Lunch voorzien we sowieso voor iedereen die zich inschreef.
​

Catering/Toegankelijkheid
VVSG zorgt ervoor dat het cateringaanbod minstens 50% vegetarisch is. Heb je andere voorkeuren? Geef dit dan door via het inschrijvingsformulier bij 'opmerkingen' helemaal aan het einde van de inschrijving.

Heb je specifieke noden of wensen waarmee we rekening moeten houden? We horen het graag!
Deelnameprijs voor de hele dag
€

165 - VVSG-leden

€ 230 - niet VVSG-leden

We werken enkel met een dagprijs
Betaling
Je ontvangt van ons een factuur na het event.

In het inschrijvingsformulier kan je indien gewenst aangeven naar waar de factuur moet verzonden worden alsook je bestelbonnummer ingeven.
Annuleren
Kosteloos annuleren is mogelijk tot 5 werkdagen voor Expeditie K, dus ten laatste op 25 mei 2023.
Daarna rekenen we de volledige deelnameprijs aan, tenzij je een geldig ziekteattest kan voorleggen.
Ben je onverwacht verhinderd of is het te laat om te annuleren? Laat je vervangen door een collega door een e-mail te sturen naar academie@vvsg.be.
Wedstrijd
Tijdens Expeditie K kunnen deelnemers een weekend Kortrijk voor 2 personen winnen. Deelnemen kan door het juiste antwoord aan te vinken op de Bingo-kaart die deelnemers ontvangen bij de start. Op het einde van de dag maken we de winnaar bekend. Hier vind je het wedstrijdreglement: 20230529_Bingo_Wedstrijdreglement.pdf
Vragen
Nele Timmermans & Elke Van Den Wijngaert, Team Kennisdeling en Ledenadvies, projectadviseurs, nele.timmermans@vvsg.be of elke.vandenwijngaert@vvsg.be